Mike Carty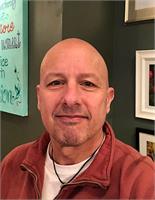 Michael is a native of Chambersburg and a graduate of the Pennsylvania State University where he earned a B.S. in Aerospace Engineering in 1988.
He then served as an Officer in the United States Marine Corps stationed in Virginia, California and Arizona.
After the Marine Corps, he spent the next 20 years as a sales and marketing executive in the diagnostic healthcare market living and working in Orlando, FL.
Michael returned to Chambersburg in 2011 where he reconnected with Lauren. He and Lauren started dating and focused their energies on helping the revitalization of downtown Chambersburg. Their purchase of the Lotus Moon building in October of 2012, and subsequent renovation, put everything in place for the creation of Lotus Moon Gallery and Yoga. Michael has a great love and appreciation for the arts and enjoys adding yoga practice to his exercise regimen.
Mike Carty is currently not instructing any classes.